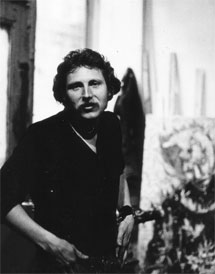 Peter Dean described himself as "an interpreter of reality into fantasy and back again. Known for apocalyptic social satires, he was brought to the United States by his parents in 1938 to escape the Nazis. Raised in New York City, he was often taken to art museums as a child. At Cornell and University of Wisconsin, he studied geology, which may account for his lesser known but remarkably intense landscape paintings, such as Dovekill Poppies (1984), also in the Akron Art Museum's collection. Dean decided to become a painter in 1959, dividing his time for the next ten years between painting and geological work until he could devote himself full-time to art.
Dean has primarily worked in two veins: canvases giving free rein to his fantasies, and works inspired by specific events. Both approaches can enter the realm of phantasmagoria, not unexpected for an artist spawned by the Age of Aquarius. Though his themes were often violent, Dean also adored parades and painted them. Black Astronautis one of two paintings of an astronaut enjoying a ticker tape parade. Both admiring and sarcastic, it celebrates the triumph of a blond, crew-cut all-American hero, combining themes of nationalism and technological prowess with traditional notions of personal heroism and masculinity. The yellow profile in the center is that of the youthful John Glenn, the first American astronaut to orbit the earth and later Ohio's longtime Senator. The Akron Museum's version is a nighttime scene; "black" in the title refers not to race but to artists, designation of nighttime scenes or dark paintings as "black" works.
About Astronaut in New York, a version of The Akron Museum's painting, the artist later recalled: "I love the total madness and confusion of a ticker-tape parade in New York City. This could be any astronaut but I suppose it's John Glenn (although I don't know if he had a ticker-tape parade.") In the painting he has his dog with him. Rockets are going off here and there. The chauffeur is down front with a big-wig from NASA---he sits there wearing a cowboy hat even though he's an Air Force guy. ".... I wanted a lot of confusing activity in the painting. So I mixed washes with my thick paint and used squiggly lines for the confetti and ticker-tape." Glenn did indeed have a ticker tape parade in New York City following his flight. He was accompanied by Mrs. Glenn, whose public face, one presumes, was not the white, clown-like mask so prominent in the painting. Black Astronaut depicts an historical event, but the details are invented, uniting reality and fantasy.
Dean's description, which also applies to The Akron Museum of Art's painting, reflects his interest in both the emotional and technical sides of art. Experimenting with different ways to apply paint-spattered, brushed and smeared was continually engaging, and Dean would sometimes use his hands as well as a brush. His scattering of paint across the entire surface reflects a longtime interest in abstract expressionism and particularly Jackson Pollock's habit of distributing paint across the entire canvas rather than having a traditional central focus.
Black Astronaut celebrates, yet also pokes fun at, male fantasies. Phallic rockets frame the scene, raising the obvious association of military prowess with sexual potency. The astronaut was one generation's American hero; the cowboy hat on the NASA official brings to mind an earlier embodiment of American adventure. Another male role model, the cop, takes on a more sinister tone.
Dean occupied a recurring status as an outsider. He started life as a Jew in Nazi Germany. As an artist, he was a figurative painter of social conscience while analytical abstraction and ironic aloofness reigned. Amusingly, he was occasionally an art professor with a science degree. Although his work has never achieved widespread appreciation, his impassioned, almost eccentric vision may well stand the test of time and bring his paintings the stature they deserve.
Peter Dean by Mitchell D. Kahan